A new global site selection study compares the cost of operating a biomanufacturing plant in a series of top U.S. and offshore hubs of the biopharma industry, including Palm Beach County, Florida. Palm Beach County ranks nationally among major U.S. bioscience centers, housing over 200 biopharma companies in the region and employing a workforce of over 7,000.
The new Boyd study found Copenhagen, Denmark, to be the most costly city in which to operate at $58.7 million per year and Bengaluru, India, to be the least costly site at $13.9 million.
Among U.S. biopharma hubs, annual costs range from a high of $55.4 million in New York, New York, to a low of $37.2 million in Raleigh/Durham, North Carolina. Palm Beach costs showed very well in the Boyd analysis at $39.2 million — second lowest among the U.S. locations.
Operating costs were scaled to a hypothetical 300,000-sq.-ft. (27,870-sq.-m.) biologics production plant employing 300 workers. The analysis includes all major geographically variable cost factors critical to the corporate site selection process for new biomanufacturing operations.
COVID-19, Reshoring and Operating Costs
Cost differentials between an acceptable production site and an optimum location can be very substantial even within a given U.S. region. Itemized annual operating costs in Palm Beach County are detailed in the table below along with several other high and low-cost biopharma hubs surveyed by Boyd.
Extended and overly risky supply chains have been a growing concern for Boyd clients in several manufacturing sectors. Today, with the COVID-19 crisis, these dangerous supply chains are no longer tolerable and indeed life-threatening as they relate to China and the biopharma industry.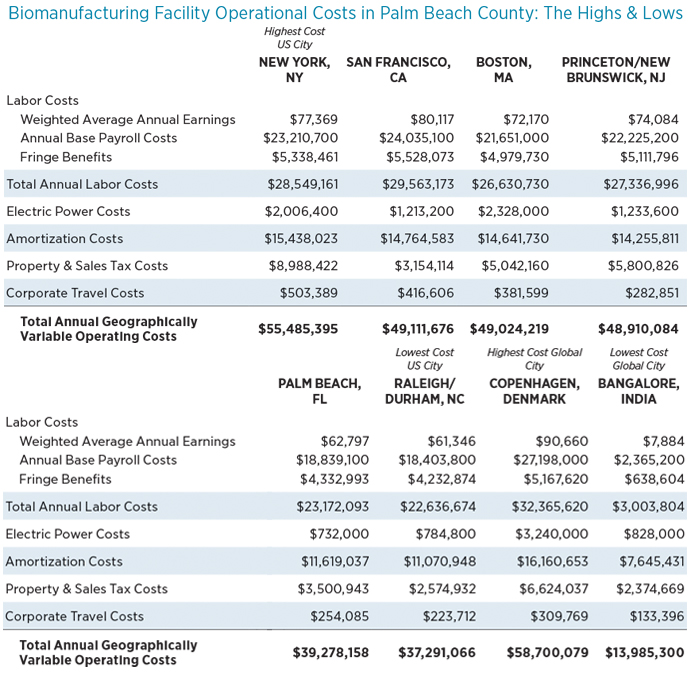 The coronavirus pandemic is providing a new and forceful tailwind for the reshoring of manufacturing investment back to the States from China and elsewhere. Our nation's medical devices and biopharma sector — now heavily concentrated in China — must be the first in line to disinvest there and reinvest back here in the States.
Growing pressures for price controls on prescription drugs, COVID-19 anxieties, along with tax, trade and regulatory uncertainties associated with the 2020 presidential election, are all causing a heightened focus on operating cost structures and efficiencies within the biopharma industry.

Many pharmaceutical companies and biotech companies are concluding that improving the bottom line on the cost side of the ledger will be far easier than on the revenue side in 2020 and beyond. Site selection planning on where to locate new biomanufacturing facilities, likewise, is focusing heavily on comparative economics.
Top U.S. & Global Biomanufacturing Locations
On this page are the top U.S. and global biomanufacturing locations surveyed by Boyd. The U.S. production sites were selected based on such criteria as the size and growth of local life sciences employment, the inventory of lab space, NIH funding, the presence of academic and medical research institutions and the depth of their overall high-tech workforce.
Off-shore locations were chosen based on their housing major operations of global biopharma players: Copenhagen (Novo Nordisk), Paris (Sanofi), Frankfurt (Merck), Dublin (Allergan), Zurich/Basel (Biogen), London (GlaxoSmithKline), Melbourne (Mayne Pharma), Bengaluru (Bal Pharma), Tel Aviv/Petah Tikva (Teva), Tokyo (Otsuka) and Singapore (Bestar).
Palm Beach County's Biopharma Cluster
Palm Beach County houses one of the nation's top healthcare systems, academic medical schools at Florida Atlantic University (FAU), Nova Southeastern University and University of Miami, Palm Beach. The County's world-class anchor research institutions — Max Planck and Scripps — establish it as one of the leading neuroscience research hubs in the country.
FAU is a Carnegie Foundation for the Advancement of Teaching "High Research Activity" institution with a specific Life Sciences Initiative. Research focuses at FAU's Charles E. Schmidt College of Medicine in Boca Raton include cardiovascular disease and stroke, cancer, Parkinson's disease, macular degeneration, autoimmune diseases and HIV/AIDS. Palm Beach State College operates a 90,000-sq.-ft. (8,361-sq.-m.) Bioscience Technology Complex on its Palm Beach Gardens Campus.