March 09, 2020 – Palm Beach Gardens, FL – Integrity Implants Inc., a fast-growing life science start-up headquartered in Palm Beach County, offers innovative products and solutions for challenging spinal surgeries. Integrity Implants recently relocated to a new built-to-suit corporate headquarters in Palm Beach Gardens, providing space to shepherd its unique products from conception to design testing to delivery. Its features include a machine shop to drive product development and a state-of-the-art laboratory enabling surgeons to practice implanting the Company's products. Integrity Implants has raised over $40 million in capital since its 2016 founding, and is planning to add many local STEM jobs to its current global workforce of over 50 employees.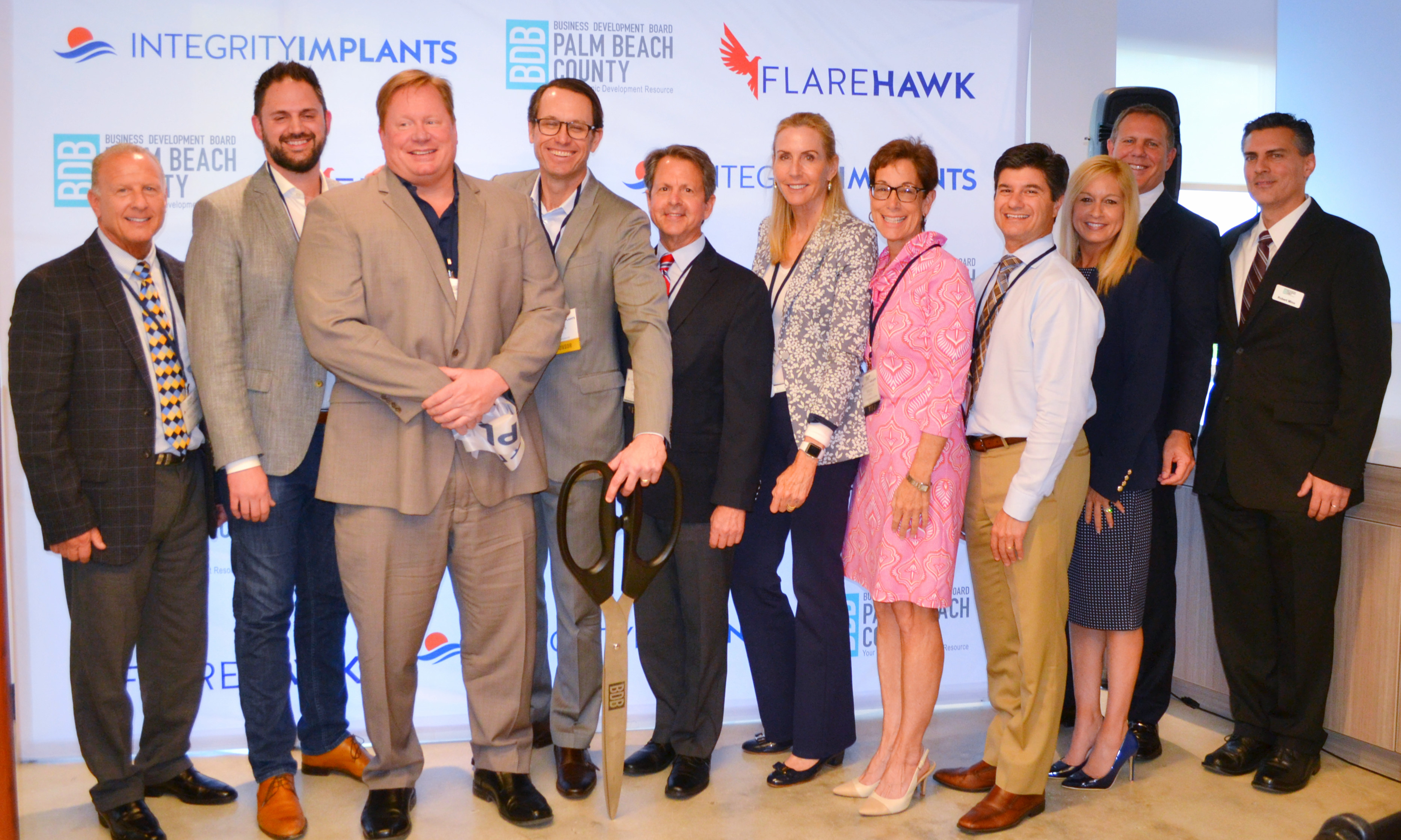 Photo from left to right: CareerSource PBC Michael Corbit, American Board of Orthopedic Surgery Dr. Robert Norton, Integrity's Co-Founders Chris Walsh (CEO) and Wyatt Geist (CTO), Pam Beach County Commissioner Greg Weiss, Business Development Board (BDB) Chair Carey O'Donnell, Palm Beach Gardens Councilmember Maria Marino, Palm Beach Gardens Mayor Mark Marciano, Business Development Board (BDB) CEO Kelly Smallridge, Integrity Implants CCO Kevin McGann, and BDB VP Life Sciences Robert Mino
The Business Development Board of Palm Beach County (BDB) has assisted with Integrity Implants' expansion by connecting it with local talent pipelines, including Florida Atlantic University, CareerSource Palm Beach County, and Palm Beach State College. The BDB also assisted with the Company's search for its new headquarters and has provided many beneficial introductions to local business partners. The new corporate headquarters was showcased at a Grand Opening hosted at the facility on March 6, 2020, planned in close partnership between Integrity Implants and the BDB.
WHAT THIS MEANS FOR PALM BEACH COUNTY:
Corporate HQ located at 354 Hiatt Drive in Palm Beach Gardens
15,000 sq. ft. of built-to-suit commercial real estate occupied
New high-paying STEM jobs for residents
Local workforce partnerships have blossomed with Florida Atlantic University, Palm Beach State College, and others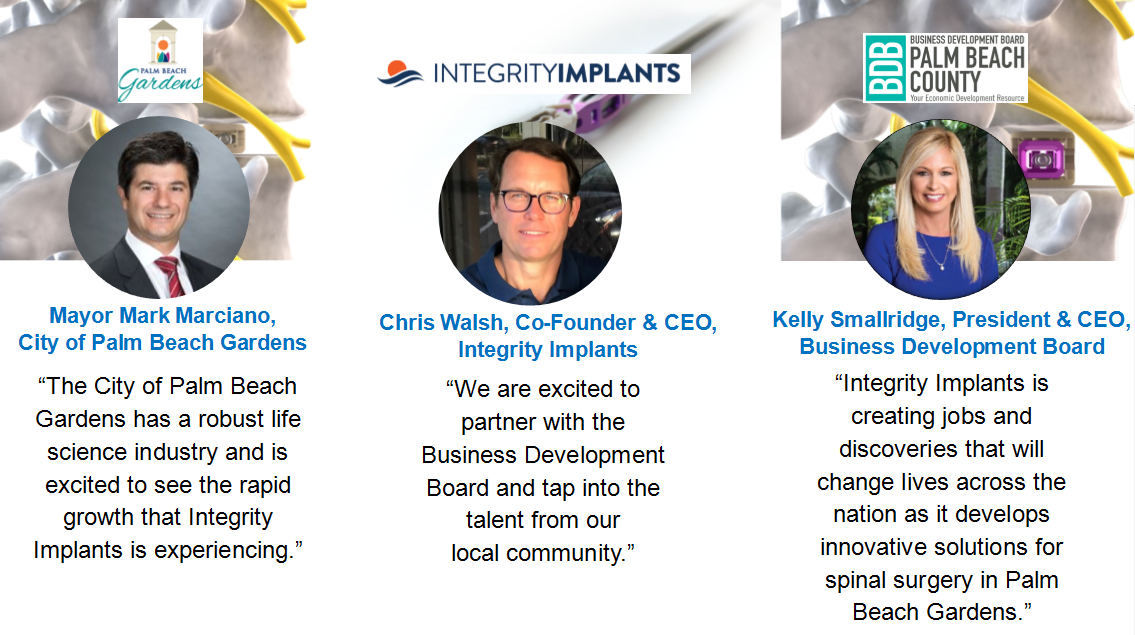 View more Photos from the Grand Opening here >
About Integrity Implants Inc.
Integrity Implants Inc., founded in 2016 by seasoned business partners and spine leaders Chris Walsh and Wyatt Geist, is a privately held medical device company headquartered in Palm Beach Gardens, Florida. The Company is dedicated to delivering innovative spine products and solutions to surgeons and their patients around the globe. Its proprietary Adaptive Geometry™ technology fundamentally respects a patient's neural, vascular, bony, and soft tissue anatomy, both during and after implantation.
For more information, please visit the Company's website at www.integrityimplants.com.
About Business Development Board 
The Business Development Board of Palm Beach County is the official public/private economic development organization for Palm Beach County and Enterprise Florida.  Founded in 1982 as a not-for-profit corporation, our primary purpose is to attract and retain new industry, business investment, high quality jobs and workforce development through corporate relocations, expansions and international trade. During the past five years, the BDB has assisted companies that have created more than 12,822 direct jobs with average salaries greater than $69,062, resulting in more than $777 million in capital investment to Palm Beach County and an economic impact that exceeds $6.87 billion.  Additional information can be found at the BDB's web site, BDB.org.