December 17, 2019 – West Palm Beach, FL – The Business Development Board of Palm Beach County (BDB) is pleased to announce that Precision Esthetics is expanding its headquarters and technology division in the City of West Palm Beach. The company recently purchased an 8,000 square foot building at 4912 South Dixie Highway. The seller was represented by BDB member Constance Thomas, Senior Director at Tower Commercial Real Estate. The company had outgrown its former facility, also in West Palm Beach, and will now have space for 30 new positions. This year, Precision celebrated 30 years of being in business. The company has a reputation as an industry leader among full service boutique dental laboratories that provide high quality Dental Lab Service to approximately 400 dentists.
ABOUT THE EXPANSION:
Projected 30 new high salary jobs for local residents
Expanding in West Palm Beach to a new facility
8,000 square feet
Soon to be located at 4912 South Dixie Highway
Dental products are made in America
More than 80,000 completed dental implant cases
Recognized as one of the top dental laboratories in the United States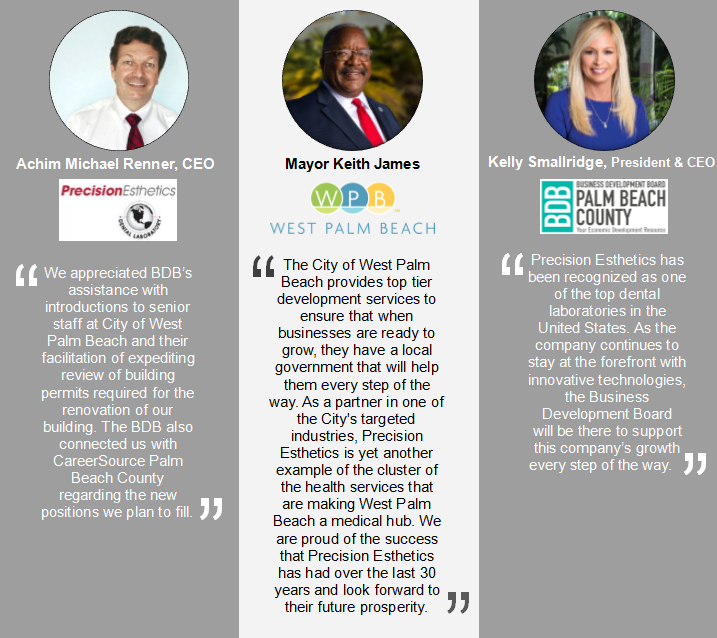 About the Precision Esthetics: Here at Precision Esthetics our mission is simply to offer unparalleled service and quality of products to dentists all over the world.  We understand that choosing the right dental laboratory is an important and critical aspect of your business.  We have been perfecting smiles since 1989 and servicing the global dental community from our headquarters in West Palm Beach, Florida, U.S.A.  Dentists all over the world enjoy the experience of interacting with our friendly and knowledgeable staff, who are by extension, a part of making your patients happy. Experience European quality craftsmanship made in America with Precision Esthetics.
About the BDB: The Business Development Board of Palm Beach County is the official public/private economic development organization for Palm Beach County and Enterprise Florida.  Founded in 1982 as a not-for-profit corporation, our primary purpose is to attract and retain new industry, business investment, high quality jobs and workforce development through corporate relocations, expansions and international trade. During the past five years, the BDB has assisted companies that have created more than 13,000 direct jobs with average salaries greater than $68,000, resulting in more than $627 million in capital investment to Palm Beach County and an economic impact that exceeds $6.95 billion. Additional information can be found at the BDB's website, BDB.org.
-BDB-