The Business Development Board of Palm Beach County (BDB) is pleased to announce that NYU Langone Florida, a world-class academic medical center, has chosen Boynton Beach for its new state-of-the-art contact center. The center will be located at 3301 Quantum Blvd in Boynton Beach and will create up to 500 new jobs. Referred by Michael H. Feldman, Director, South Florida Healthcare Advisory Practice at Cushman Wakefield, the BDB worked with the City of Boynton Beach on property and permitting services, connected it with CareerSource Palm Beach County to access talent for up to 250 job openings during its first phase in October 2019, and also worked with Florida Power & Light on technical assistance. Together, Palm Beach County's collaborative environment has facilitated another success story.
Below is an official announcement released from the company: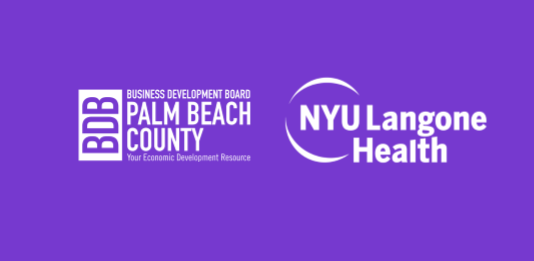 NYU Langone Health is expanding its network by opening a new state-of-the-art patient access contact center in Boynton Beach, Florida. The new facility offers a personalized, world-class experience to patients as a centralized point of access for providers and services across the growing NYU Langone network, where contact center representatives act as the gateway for patients on behalf of physician practices.
"We're thrilled to expand our growing footprint in Florida through this new location in Boynton Beach," says Andrew Rubin, vice president for clinical affairs and ambulatory care at NYU Langone. "Access to our providers and services is imperative to offering world-class care, and we are confident this new patient access contact center will assist in doing so."
The newly established and renovated location is an integral part of operations across the enterprise, and will employ more than 500 people. Though patients are not treated by physicians onsite at the new location, call center services are provided for those who call NYU Langone from anywhere in the country. It is staffed with a team ready to provide patients with a high-quality, friendly, and efficient experience using the latest contact center technology. Licensed nurses are part of the contact center team to help answer questions and facilitate other patient needs.
Since 2011, NYU Langone has grown its ambulatory care network to more than 350 locations across Manhattan, Brooklyn, Queens, Staten Island, Long Island, and Florida. It has maintained its position as a national leader in the highest-quality outpatient care. In 2019, NYU Langone received the Ambulatory Care Quality and Accountability Award from Vizient, Inc. for demonstrating excellence in delivering high-quality, efficient, and effective patient-centered care in our outpatient settings.
About NYU Langone Florida: NYU Langone is one of the nation's premier academic medical centers. Our trifold mission to serve, teach, and discover is achieved daily through an integrated academic culture devoted to excellence in patient care, education, and research.
About Business Development Board: The Business Development Board of Palm Beach County is the official public/private economic development organization for Palm Beach County and Enterprise Florida.  Founded in 1982 as a not-for-profit corporation, our primary purpose is to attract and retain new industry, business investment, high quality jobs and workforce development through corporate relocations, expansions and international trade. During the past five years, the BDB has assisted companies that have created more than 12,822 direct jobs with average salaries greater than $69,062, resulting in more than $777 million in capital investment to Palm Beach County and an economic impact that exceeds $6.87 billion.  Additional information can be found at the BDB's web site, BDB.org.
-BDB-