April 25, 2019 – JUPITER, FLA – The Business Development Board of Palm Beach County (BDB) is pleased to announce the expansion of Cytonics, a biotechnology research and development company with game-changing therapies in the osteoarthritis (OA) industry. The company will expand in Jupiter, yielding a $2.5 million capital investment into the local economy. Supported by hundreds of physicians nationwide, it is a leader in the field of regenerative medicine and is positioned to disrupt the industry with breakthrough discoveries in biologic therapies for joint pain.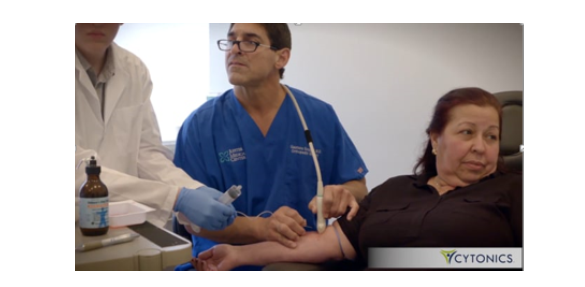 In fact, nearly 30 million Americans suffer from OA and $180 Billion is spent annually on treatments. Cytonics has not only invented the FACT™ diagnostic test, which gives physicians the ability to pinpoint the source of joint pain, but has also developed the APIC™ System, the only treatment on the market that selectively stops the progression of OA via injection. With seven patents and counting, Cytonics plans to bring a new pharmaceutical, CYT-108, to market with potential to be the first "off-the-shelf" product to treat OA and other musculoskeletal diseases. The company has treated over 6,000 patients to-date with its APIC and FACT technologies, including physicians, professional athletes, and the elderly.
Cytonics is currently conducting a crowdfunding public offering of securities to fund pre-clinical trials of its lead drug candidate, CYT-108. To learn more, please visit www.seedinvest.com/cytonics.
"The interesting thing about CYT-108 is that it is predicated on the same mechanism of action as our APIC technology, which has been very successful in clinical practice. This means that as long as CYT-108 is chemically similar to the APIC formulation then it should be both safe and effective in humans. We have already shown that CYT-108 is 2-4x more effective than the standard of care in animal models, and anticipate a successful pre-clinical trial," said Joey Bose, President of Cytonics Corporation. "We are also very excited to be conducting a crowdfunding campaign to raise capital for our pre-clinical trials. It is truly a unique opportunity for the general public to be involved in the success of early-stage biotechnology, and we are very grateful for our physician and patient investors that have supported us from the beginning!"
The Business Development Board provided the company with technical support and multiple introductions to life science leaders in the area, including to local executive, and now current president of Cytonics, Joey Bose. "Jupiter's life science ecosystem is fostering the growth of companies with new breakthrough discoveries. We're excited to see the growth of Cytonics for more years to come," said Kelly Smallridge, President & CEO, Business Development Board.
About Cytonics: Cytonics, founded in 2006, is a private research and development company focused on developing molecular diagnostics and therapeutics for chronic musculoskeletal diseases such as osteoarthritis. The company's flagship product was a diagnostic test which helps identify the source of joint pain and assists physicians in determining the most appropriate course of treatment. Cytonics then developed the Autologous Platelet-Integrated Concentrate (APIC) system which concentrates a therapeutic blood protein, A2M, from patients' own blood and injects the A2M-rich concentrate into damaged joints. APIC has been used to treat over 6,000 patients nationwide, saving thousands of patients from invasive joint replacement surgeries. The company has raised over $15M in private funding and was awarded $1.8M in grants from the NIH to pursue their innovative research. The company is currently pursuing pre-clinical studies for their lead drug candidate, CYT-108.
About BDB: The Business Development Board of Palm Beach County is the official public/private economic development organization for Palm Beach County and Enterprise Florida.  Founded in 1982 as a not-for-profit corporation, our primary purpose is to attract and retain new industry, business investment, high quality jobs and workforce development through corporate relocations, expansions and international trade. During the past five years, the BDB has assisted companies that have created more than 12,822 direct jobs with average salaries greater than $69,062, resulting in more than $777 million in capital investment to Palm Beach County and an economic impact that exceeds $6.87 billion.  Additional information can be found at the BDB's web site, BDB.org.
-BDB-