February 6, 2019 – JUPITER, FL – The Business Development Board of Palm Beach County (BDB) and the Town of Jupiter are pleased to announce the relocation of Beacon Pharmaceutical (beaconpharmaceutical.com), a focused early-stage life sciences firm, to Jupiter.  As part of Beacon's move to Jupiter, the company will build a state-of-the-art life sciences accelerator and biologics synthesis facility to support up to 50 companies in which the firm plans investments. This new headquarters will be a building up to 200,000 sq. ft. in Jupiter, creating an estimated more than 137 new jobs with a capital investment of approximately $80 million.  Beacon Pharmaceutical originally planned to house the project in New York City.  Through proactive outreach by the BDB, Beacon Pharmaceutical decided to consider Palm Beach County.
"Beacon Pharmaceutical Global Health Initiative's central thesis is its people," said Nancy Torres Kaufman, Executive Chairwoman of Beacon Pharmaceuticals.  She continued, "Our CEO Philippe Gastone, Team, Executive and Scientific Board have worked tirelessly to expedite this transaction and are the fuel behind this wonderful news.   Beacon Pharma is about the passionate individuals innovating and developing break through healthcare solutions for the citizens of the globe. The Beacon Platform is based on a deeply held belief that all human lives deserve an opportunity to achieve their fullest potential and contribute meaningfully to society.  We aim to achieve these through investments in research & development in highly profitable and liquid socially conscious investment opportunities."  Leveraging its international network, Beacon will provide support services to early stage companies, from business, legal, and regulatory support, to laboratory space, and investment.  The site will also manufacture cGMP clinical trial supplies and stem cell therapies to meet a global unmet need.  As a result, the Beacon-Accelerator in Jupiter will be able to support companies from concept to commercialization.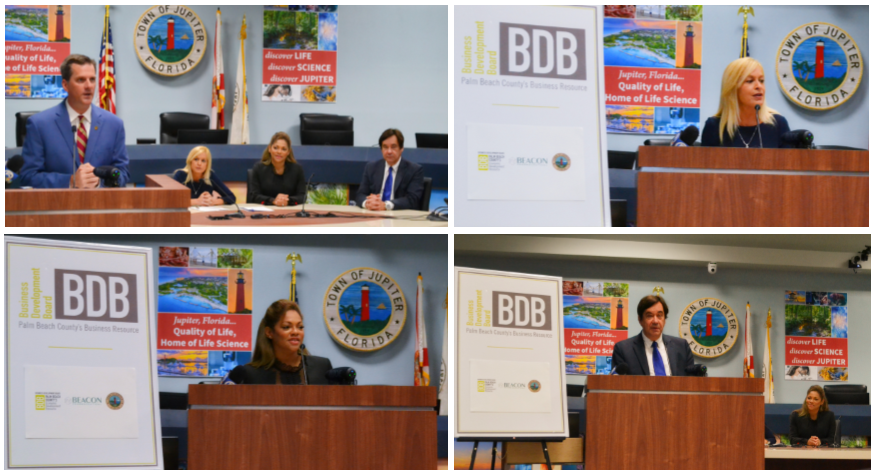 "The Beacon-Accelerator will host and invest in cutting-edge companies seeking to bring promising medical advancements to market making it a significant addition to Palm Beach County's Bench to Bedside Life Sciences Cluster, which includes two globally top-ten ranked research institutions, the Max Planck Institute and the Scripps Research Institute, and FAU's Brain Institute, a Nikon Center of Excellence, all of which are now located in Jupiter," Kelly Smallridge, President and CEO, Business Development Board.
"Jupiter is extremely excited to welcome Beacon Pharmaceutical to its life science community of companies," said Todd Wodraska, Mayor of the Town of Jupiter.  "Since 2006, when Scripps decided to locate in Jupiter, we have supported this industry through our bioscience investment fund, setting aside $3 million for loan guarantees that have supported 15 biotech companies to-date.  Beacon Pharmaceutical fills what was a missing component for Jupiter, offering support services that allow research and development companies to bring their products to market, all within our beautiful 22 square miles."
In 2015, the BDB commissioned a large study, resulting in the creation of a Life Sciences Industry Action Plan to provide a roadmap to grow the Cluster.  In 2017, the BDB hired Robert Mino, a biotech business and patent attorney and experienced biotech entrepreneur, to implement the Action Plan.  Mr. Mino focuses on building the ecosystem by locating investment capital and other resources for life sciences companies.
"A local accelerator would attract a number of companies to our community, creating jobs, fueling collaboration, and possibly developing the next medical advancement to improve the lives of people around the globe," said Robert Mino, VP, Life Sciences, Business Development Board.
About the BDB: The Business Development Board of Palm Beach County is the official public/private economic development organization for Palm Beach County and Enterprise Florida.  Founded in 1982 as a not-for-profit corporation, our primary purpose is to attract and retain new industry, business investment, high quality jobs and workforce development through corporate relocations, expansions and international trade. During the past five years, the BDB has assisted companies that have created more than 12,822 direct jobs with average salaries greater than $69,062, resulting in more than $777 million in capital investment to Palm Beach County and an economic impact that exceeds $6.87 billion.  Additional information can be found at the BDB's web site, BDB.org.
About the Town of Jupiter: Jupiter, Florida is located in the northeast corner of Palm Beach County, between Miami and Orlando. A coastal community that celebrates its history and heritage, Jupiter maintains a small-town feel and sense of community that is unique in South Florida. By keeping a watchful eye on development and managing growth, Jupiter has successfully avoided many of the challenges facing South Florida communities today. Residential and economic growth – such as that fueled by the life sciences industry – provides new opportunities that are a good match for Jupiter's character and sense of place.
About Beacon Pharmaceutical: Beacon Pharmaceutical was established to be a premier center for life science research and investment. Beacon Pharmaceutical intends to boost discovery and minimize drug to market time from the R&D bench through commercialization; while promoting cross-border collaborations among its members and portfolio companies with a focus on early stage life science companies.
The Beacon Global Health Initiative platform is comprised of: A State-of-the-Art cGMP environment friendly facility for synthesis of therapeutics allowing for the manufacturing and formulation of pilot to full scale up commercial products (to be leveraged by our accelerator companies and CMO strategic alliances); the Beacon Accelerator, will host carefully chosen life science companies and will be equipped to house and advise cutting-edge companies to bring in promising medical advancements to market.    The Beacon Pharmaceutical platform will be a significant addition to Palm Beach County's Bench to Bedside Life Sciences Community, led by a diverse and experienced board and executive team.
Beacon Pharmaceutical has already identified 38 companies for its accelerator and is in preliminary conversations for a CMO JV with a world class manufacturing group for the manufacturing of large molecules and biologics.  Combined, these will offer enhanced investment opportunities in one of the fastest growing and exciting investment asset classes in the world.
Construction of the facility is expected to be finalized in the second quarter of 2020, by which time the facility will be fully stabilized and ready to open its doors.  The opportunities for investing will be open to investors almost immediately.  www.beaconpharmaceutical.com/