BOCA RATON, FL – August 7, 2017 RELEASE PDF –  Boca Raton Regional Hospital announces the appointment of Thomas Genuit, MD, MBA, FACS, FCCM, to the Hospital's medical staff and BocaCare® physician network. Dr. Genuit is a board-certified general surgeon who is also fellowship-trained in Surgical Critical Care and Trauma.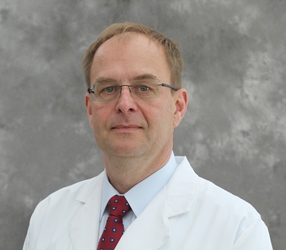 Dr. Genuit attended medical school at Ruprecht-Karls Universitaet Heidelberg Medizinische GesamtFakultaet in Heidelberg, Germany. He completed his General Surgery internship and residency at The Johns Hopkins University School of Medicine in Baltimore, Maryland and completed a fellowship in Surgical Critical Care and Trauma at the University of Maryland Medical Center/RA Cowley Shock Trauma Center in Baltimore.
Dr. Genuit holds a Master of Business Administration from Loyola University Maryland, Sellinger School of Business and a Master of Health Professions Education from the University of Illinois at Chicago. He currently serves as Professor of Surgery, Chair of the Department of Surgery and Surgery Residency Program Director at Florida Atlantic University's Charles E. Schmidt College of Medicine.
Dr. Genuit has authored and co-authored articles in such prestigious peer-reviewed publications as Journal of Gastrointestinal Surgery, International Journal of Intensive Care, Journal of Trauma, Journal of Clinical Anesthesia and Journal of Surgical Research.
His clinical specialties include: critical care, general surgery, gastrointestinal surgery and trauma. Dr. Genuit is a Diplomat of the American Board of Surgery and a Fellow of the American College of Surgeons and The American College of Critical Care Medicine.
About Boca Raton Regional Hospital – Advancing the boundaries of medicine.
Boca Raton Regional Hospital is an advanced, tertiary medical center (BRRH.com) with 400 beds and more than 800 primary and specialty physicians on staff. The Hospital is a recognized leader in oncology, cardiovascular disease and surgery, minimally invasive surgery, orthopedics, women's health, emergency medicine and the neurosciences, all of which offer state-of-the-art diagnostic and imaging capabilities. The Hospital is a designated Comprehensive Stroke Center by the Florida Agency for Health Care Administration (AHCA).