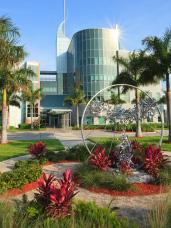 The National Institute of General Medical Sciences of the National Institutes of Health has awarded scientists of the Jupiter-based Scripps Research Institute a grant of about $1.8 million.
The grant will be used to develope a series of drug candidates to treat a number of ailments, including heart disease, rheumatoid arthritis and several neurodegenerative disorders.
"This is an exciting project, and I think our combined efforts are well-positioned to make significant progress over the next three years," said Scripps Research Institute researcher and professor William R. Roush, a co-principal investigator of the three-year project, alongside associate professor Derek Duckett.
The $1.8 million grant stands alongside a number of significant strides to develop Jupiter's growing biotech community, anchored by The Scripps Research Institute.
In October, Palm Beach County snared from Alachua County CTD Holdings, a biotech company that will set up its headquarters in Jupiter and add 51 jobs to the area's biotech sector. The company will also invest $2.75 million as part of an incentives deal, which the Business Journal uncovered in April through public documents.
According to the Florida Department of Economic Opportunity, Florida is home to the nation's second-largest medical device manufacturing industry, the third-largest pharmaceuticals manufacturing industry, and the seventh-largest biotech research and development industry. More than 27,000 professionals work in Florida's biotech, pharmaceutical manufacturing and medical-device manufacturing industries.
Prior to the CTD announcement, South Florida welcomed BlinkBio.
The privately held biotech firm moved to Jupiter from Long Island, New York and entered into an agreement with the Scripps Research Institute in Jupiter.
"The Scripps laid out a compelling case for their strong institutional commitment to supporting an emerging biotech cluster," said BlinkBio CEO Colin Goddard.
Full Article: http://www.bizjournals.com/southflorida/news/2017/01/25/scripps-research-institute-scores-1-8m-grant.html