The Center of Excellence in Medical Simulation at Palm Beach State College has been chosen by the Florida College System as a 2016 recipient of the Chancellor's Best Practice Award.
The honor was presented Nov. 2 at the Association of Florida Colleges 67th Annual Meeting and Conference in Lake Buena Vista, Fla. Jacqueline Rogers, Ed.D., Lake Worth campus dean of health sciences and public safety, accepted the award for the center that she founded to enable students to practice clinical skills utilizing human patient simulators capable of mimicking any medical condition or crisis.
"The impact on student success is evident in PBSC's Center of Excellence in Medical Simulation, where the energy is palpable," says Rogers. "From the various levels of training in our health science and EMS career paths, students can not only envision their role, but understand the role of their colleagues caring for patients. Through reality-based scenarios, students apply learning concepts and develop critical thinking skills, all without jeopardizing patient safety. It is for this reason, graduates from Palm Beach State College's Health Science and EMS programs are sought after by employers."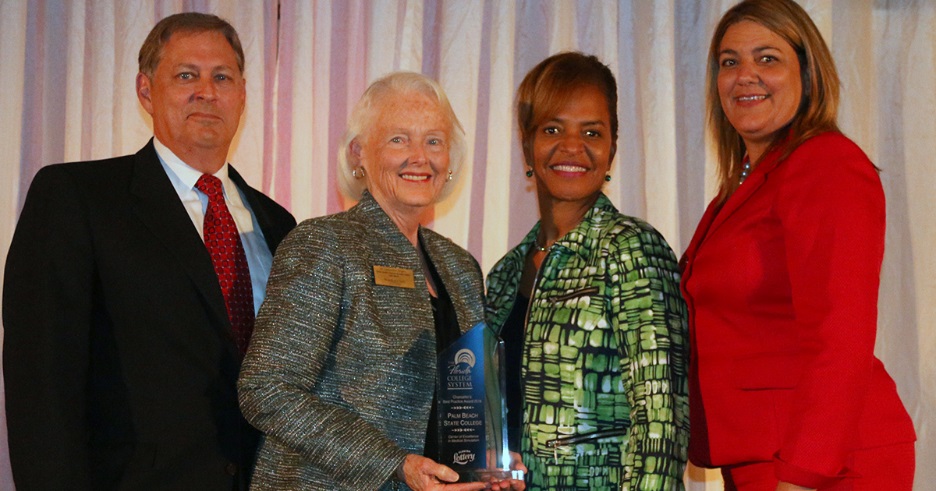 Charles K. Cross Jr., chair of PBSC Board of Trustees; Jacqueline Rogers, Ed.D., Lake Worth campus dean of health
sciences and public safety and founder of the Center of Excellence in Medical Simulation; PBSC President Ava L. Parker;
and FCS Chancellor Madeline Pumariega
Based on PBSC's Lake Worth campus, the center is set up like a hospital, but the patients are wireless, computerized mannequins representing each gender and stage of life, including adult, child and newborn as well as a birthing mother. PBSC students care for the human patient simulators while their instructor observes behind a one-way mirror. The simulation system operators—paramedics and RNs by training—work closely with the instructors, speak as the patient and instantly change vital signs depending on the patient's condition and the treatment given by the students.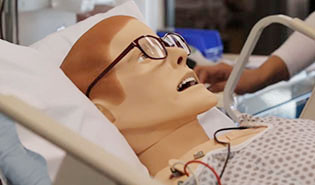 A human patient simulator at PBSC's Center of Excellence in Medical Simulation
In 2014, an innovative interdisciplinary approach was introduced at the center to prepare students to work collaboratively in the team-based method used in actual health care settings. Students enrolled in the Nursing, Paramedic and Respiratory Care programs, for example, gain an understanding of each other's roles and competencies, while applying their specific hands-on knowledge and skills in real-time. Medical residents from the University of Miami Miller School of Medicine also participate in clinical simulations with PBSC students, giving even greater authenticity to the simulated environment.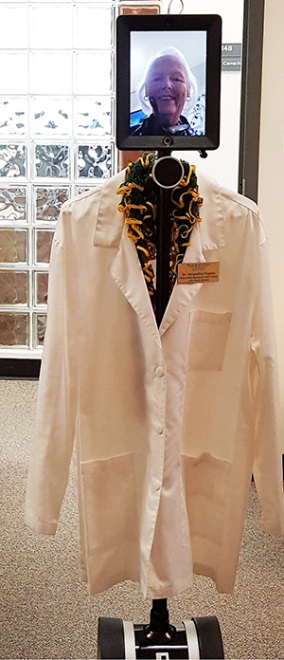 "Dr. R2" is the telemedicine device named after its operator, Dr. Jacqueline Rogers, PBSC dean of health sciences
and public safety and founder of the College's Center of Excellence in Medical Simulation.
Recently, the center began piloting telemedicine during training scenarios to simulate how a physician can interact in a health care setting from a remote location. "Dr. R2" is double robotics technology featuring an iPad on a stick on wheels. Through wireless technology, Dr. R2 can be "driven" by the remote practitioner using a tablet or smartphone. The practitioner maneuvers the device and is able to see and speak to patients and medical staff in real-time.
Since 2011, the Center of Excellence in Medical Simulation has provided more than 4,613 simulations to 8,561 students in 1,428 classes in PBSC Health Science and Emergency Medical Services programs.
View a video about the center and learn more at www.palmbeachstate.edu/MedicalSimulation.
Serving 48,000 students annually, Palm Beach State College is the largest institution of higher education in Palm Beach County, providing bachelor's degrees, associate degrees, professional certificates, career training and lifelong learning. Established in 1933 as Florida's first public community college, Palm Beach State offers more than 130 programs of study at locations in Lake Worth, Boca Raton, Palm Beach Gardens and Belle Glade, with a new campus under construction in Loxahatchee Groves.
###